3D-Micromac wins major contract from the photovoltaics industry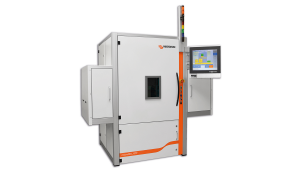 An existing Asian customer orders laser systems from 3D-Micromac with a production capacity of more than 2.5 GW to structure high-efficiency solar cells.
3D-Micromac AG recently won a major contract for a total of 27 microSTRUCTTM OTF machines for removal of the backside passivation on PERC cells. A leading global photovoltaics company awarded the contract to 3D-Micromac for the laser systems to equip its production facilities in Asia. With that the number of systems to be delivered to this customer rises to 36 units. The overall project is to be completed by the end of 2015.
3D-Micromac was able to acquire the customer for the microSTRUCTTM OTF laser system already in April 2014. The first system delivered served to qualify the laser process at site. After successfully demonstrating process reliability, the first two production systems were ordered at the end of 2014. Successful integration into cell production was completed recently. Further orders followed early in the year.
The microSTRUCTTM OTF systems produce a selective opening on backside passivated multi- and monocrystalline solar cells. For this equipment 3D-Micromac guarantees an excellent price-performance ratio, but with productivity high above the average. This is made possible through proven on-the-fly technology, in which the laser processing takes place during the transport of the cells under the laser source. Even though the system is offered as stand-alone tool, it can also be fully integrated into existing automated production lines.
"We are delighted to have acquired one of the world's biggest producers of solar cells for our production equipment. Already after a brief qualification phase our process know-how, customer orientation and service quality convinced them, so that we will now equip the production facilities in Asia with our laser equipment," said Tino Petsch, CEO of 3D-Micromac. "This strengthens us in our strategy of focusing on industrial growth markets and shows us that the approach we took in the direction of systematic customer orientation and expansion of the international distribution and service organization is paying off."
About 3D-Micromac AG
3D-Micromac AG is the industry leader in laser micromachining. We develop processes, machines and turnkey solutions at the highest technical and technological level. Our aim is to provide superb customer satisfaction even for the most complex projects.
3D-Micromac delivers powerful, user-friendly and leading edge processes with superior production efficiency. These proprietary technology innovations are now readily available on a worldwide scale.
Press contact:
3D-Micromac AG
Mandy Gebhardt
Marketing and Public Relations
Technologie-Campus 8
09126 Chemnitz, Germany
Phone: +49 (0)371 400 43-26
E-Mail: gebhardt@3d-micromac.com