3D-Micromac at Laser World of Photonics 2017
New laser processes and machine solutions for processing of glass and sapphire
3D-Micromac AG, the leading specialist for laser micromachining, will be presenting itself at Laser World of Photonics, the world's leading trade show for the laser and photonics industry in hall A2 at booth 121 on the New Fair Munich exhibition grounds from June 26 to 29, 2017. On display will be new laser processes and innovative machine solutions for laser micromachining.
Product launch of microSHAPE™ laser systems for processing of glass and sapphire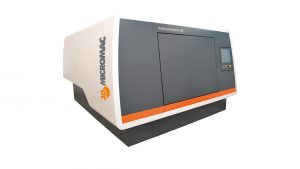 For the first time, the new microSHAPE™ laser systems for processing of glass and sapphire are presented to the trade visitors. The microSHAPE™ FSLA laser system is designed for high accuracy drilling of boreholes and structuring of undercut geometries in strengthened or unstrengthened glass or sapphire substrates using FSLA™ (Flow Supported Laser Ablation). By using an ultrashort-pulsed laser, the material is processed from the backside. In addition, a defined flow is streamed against the backside of the substrate during the entire laser process. This stream is adapted precisely to the ablation process, and transports away the debris of the ablation process as well as helps prevent heat from accumulating in the substrate. The taper of the boreholes, which is otherwise typical for laser processes, can be completely avoided. The low-damage processing leads to practically no chipping. Very low additional stress is introduced into the material. The minimal achievable wall roughness lies at around Ra 0.5 µm in glass materials.
Besides the microSHAPE™ FSLA laser systems for drilling and ablation, 3D-Micromac also presents the high accuracy microSHAPE™ production systems for laser cutting of glass and sapphire for the first time. Depending on the application, non-ablative and particle free cutting techniques based on Thermal Laser Separation (TLS) or filamentation cutting are used. As standard, the systems are designed for panel sizes up to GEN 5 (1100 mm x 1300 mm).
microFLEX™ – Roll to roll laser machining of flexible substrates
A further focus of 3D-Micromac's trade show appearance are the already proven microFLEX™ roll to roll systems for laser machining of flexible devices. The all-in-one production solution combines high-precision laser processes with cleaning, coating, printing, and packaging technologies as well as quality control. Depending on customer requirements, an accuracy of up to ± 1 μm can be achieved. Application areas can be found in photovoltaics, medical device technology, semiconductor industry, electronics manufacturing and in the production of flexible displays.
Compact and cost efficient laser system microSTRUCT™ mini
Aside from this, 3D-Micromac presents the new developed, modular laser system microSTRUCT™ mini.
microSTRUCT™ mini is a compact and highly flexible laser micromachining system predominantly used in industrial production and product development. Superior flexibility and cost efficiency make the system ideally suited for laser structuring, cutting, drilling and welding applications on a variety of substrates. Depending on the application area, various process modules and options are available.
Presentations at LIM 2017 – Lasers in Manufacturing
The trade show appearance of 3D-Micromac will be augmented by special presentations on machine solutions and new technologies at LIM 2017, a part of World of Photonics Congress.
About 3D-Micromac AG
Founded in 2002, 3D-Micromac AG is the industry leader in laser micromachining, delivering powerful, user-friendly and leading edge processes with superior production efficiency. The company develops processes, machines and turnkey solutions at the highest technical and technological level. 3D-Micromac systems and services have been successfully implemented in various high-tech industries worldwide including photovoltaic, semiconductor, glass and display industries, micro diagnostics, and medical technology.
Company Contact:
Mandy Gebhardt
Manager, Marketing and Public Relations
3D-Micromac AG
Tel: +49 371 40043-26
E-mail: gebhardt@3d-micromac.com
Agency Contact:
David Moreno
Vice President
MCA, Inc.
Tel: +1.650.968.8900, ext. 125
E-Mail: dmoreno@mcapr.com