New head of production at 3D-Micromac
Dr. Roland Giesen appointed as Chief Operation Officer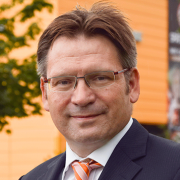 The management of 3D-Micromac AG has appointed Dr. Roland Giesen as Chief Operation Officer. Effective September 1, 2015 he will take charge of production at the Chemnitz machine manufacturer. With that he will also head the materials management and manufacturing divisions, but also the assembly and commissioning of the laser systems. At the same time he has been appointed as a member of the management.
Roland Giesen can look back on more than 15 years' experience in supply chain management, production and customer service. After graduating from the RWTH Aachen he began his career at the German semiconductor producer Infineon Technologies in Munich. After that he was responsible among others for reducing materials costs as well as for portions of production and of central purchasing at Infineon Technologies in Dresden and QIMONDA. In recent years Roland Giesen worked at the Californian machinery manufacturer Applied Materials in the areas of international purchasing and in customer, supplier and service management. Roland Giesen has extensive experience in the management of international teams.
"In the person of Dr. Roland Giesen we are pleased to have found an experienced head of production who will play a decisive role in the achievement of our growth and development plans," explains Tino Petsch, CEO of 3D-Micromac. "In particular, in the next while a main focus of his work will be the further optimization of the production processes and in association with that, determination of potential for cost savings."
About 3D-Micromac AG
3D-Micromac AG is the industry leader in laser micromachining. We develop processes, machines and turnkey solutions at the highest technical and technological level. Our aim is to provide superb customer satisfaction even for the most complex projects.
3D-Micromac delivers powerful, user-friendly and leading edge processes with superior production efficiency. These proprietary technology innovations are now readily available on a worldwide scale.
Press contact:
3D-Micromac AG
Mandy Gebhardt
Marketing and Public Relations
Technologie-Campus 8
09126 Chemnitz, Germany
Phone: +49 (0)371 400 43-26
E-Mail: gebhardt@3d-micromac.com