3D-Micromac shows highly productive microCELL™ laser systems at SNEC 2016
Innovative laser system solutions enable a step up to higher levels of cell efficiency and improved module performance classes.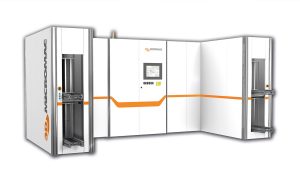 3D-Micromac AG, the industry leader in laser micromachining, is going to present its highly productive microCELL™ systems for laser processing of crystalline solar cells at SNEC 2016.
The microCELL™ production solutions include high performance laser processing for Laser Contact Opening (LCO) of high efficient PERC solar cells as well as laser dicing of full cells into half cells with Thermal Laser Separation (TLS-Dicing™).
Both are designed to meet cell manufacturers' demands for achieving maximum throughput rates and yield while diminishing cell manufacturing costs. Laser processing on-the-fly and the innovative handling concept enable maximum throughput and yield in the mass production of crystalline solar cells. The fully automatic 24/7 microCELL™ production solutions are available as stand-alone or inline system.
For more information, please visit http://lasers-for-photovoltaics.com.
About 3D-Micromac AG
3D-Micromac AG is the industry leader in laser micromachining. We develop processes, machines and turnkey solutions at the highest technical and technological level. Our aim is to provide superb customer satisfaction even for the most complex projects.
3D-Micromac delivers powerful, user-friendly and leading edge processes with superior production efficiency. These proprietary technology innovations are now readily available on a worldwide scale.
Press contact:
3D-Micromac AG
Mandy Gebhardt
Marketing and Public Relations
Technologie-Campus 8
09126 Chemnitz, Germany
Phone: +49 (0)371 400 43-26
E-Mail: gebhardt@3d-micromac.com