3D-Micromac wins Solar Industry Award 2015 in the category PV Tool Award
microDICE OTF enables high-performance solar cell cutting into half cells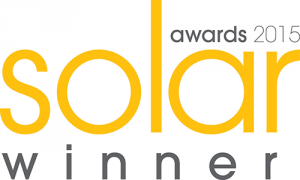 The winners of this year's Solar Industry Awards have been acknowledged: 3D-Micromac AG received the award for its production system microDICE OTF in the category PV Tool Award. The microDICE OTF system uses Thermal-Laser-Separation for cutting of cells into half cells. By using half cell technology the average module power yield can be increased significantly.
The microDICE OTF system uses Thermal-Laser-Separation for cutting of cells into half cells. The separated cells show a significantly higher mechanical strength better edge quality as well as a lower power reduction compared to laser scribing and cleaving approaches. The highly-productive system microDICE OTF achieves a throughput of more than 7200 wafers per hour (single lane). The optical set-up relies on the industry-proven on-the-fly technology successfully used at 3D-Micromac's laser structuring tools for processing of PERC cells. It guarantees highest productivity and an outstanding price-performance ratio.
The microDICE OTF is a fully automatic 24/7 production solution and can be offered as stand-alone or inline system. As all 3D-Micromac production solutions the microDICE OTF is applied to meet cell manufacturers' demands for achieving maximum throughput rates and yield while cutting cell manufacturing costs. The system guarantees very high availability through the use of a sophisticated efficient concept and high quality components.
The Solar Industry Award has been created to recognise the whole value chain and those people, products and services that will develop innovative manufacturing and product approaches that have the potential to change the way we live.
About 3D-Micromac AG
3D-Micromac AG is the industry leader in laser micromachining. We develop processes, machines and turnkey solutions at the highest technical and technological level. Our aim is to provide superb customer satisfaction even for the most complex projects.
3D-Micromac delivers powerful, user-friendly and leading edge processes with superior production efficiency. These proprietary technology innovations are now readily available on a worldwide scale.
Press contact:
3D-Micromac AG
Mandy Gebhardt
Marketing and Public Relations
Technologie-Campus 8
09126 Chemnitz, Germany
Phone: +49 (0)371 400 43-26
E-Mail: gebhardt@3d-micromac.com